Hello! Welcome back to this website 💕🍦 How are you? I hope you're doing fine! Today I'll be talking about my role models (real life + fictional) so let's get started! I have a lot to say, thus, I kept the intro short 😂😂
Min Yoongi/Suga/Agust D
I think I've mentioned this a LOT of times in my posts before! There's this whole story about him, he is very strong and insanely inspirational. I really want to let him know about ALL his doings that have inspired me to become a person like him.
You can fight me on this, but his lyrics are literally the best. Aaannnd his productions, I could cry over how good they are 😭👍 I'm not exaggerating, see for yourself. Search up "People" by him or if you prefer raps then "What do you think" or "Tony Montana ft Jimin" orr the classic Daechwita 😌
If you want to read the post where I mentioned his story, read this post!
---
2. My family (my mom and sister)
I don't know if I've spoken about this, but my sister is literally the MOST RELATABLE HUMAN BEING alive on this planet (let's ignore the fact that I live on Pluto). She keeps giving me so much good advice, when I don't know what to do, I'll go rant about stuff to her and she will show me the right things to do!
While my mom is more of a "it was your fault anyway" type of person, she teaches me to not do wrong, and always helps me with school. Plus she is rolemodel material, I think I'll share the whole story someday…I don't think this is the right time tbh.
---
3. Kalki Koechlin
SHE IS THE BIGGEST INSPIRATION FOR GIRLS AND WOMEN OUT THERE. Kalki is an actress! And also a feminist. She has been born and brought up in India, though her parents are French.
I found out about her from my sister, just yesterday! She writes poetry too, about a lot of issues in the society that too. I absolutely love her poem, titled "The Printing Machine"
---
4. Cristina Yang
Although she is a fictional character, her personality is honestly someone I'd love to be her personality. In simple words, she is SUPER SMART, savage when she needs to be, sarcastic aandd she shall outsmart you because SHE IS SO COMPETITIVE.
I just love her a lot, Yang inspires me to study (although you know, I don't wanna take up a career that leads to studying, but for the sake of school) so yeahhhhhhh also, Cristina is DROP DEAD GORGEOUS.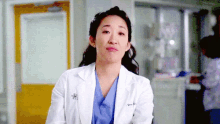 ---
5. IU/Lee Ji-Eun
This is mainly her life in a few setences. TW : Suicide
-Has to move to her grandmothers' house (that means, living away from her own parents)
-Financially poor family, fathers' business project fails
-Grandma's house gets infested
-Needs to move out
-Get's rejected by like 20 or more agencies
-Achieves her dreams
-Loses three of her best friends (they all killed themselves)
Imagine the things she's been through 😭😭 IU inspires me to be as strong as her, and overcome all challenges! We stan 😌😌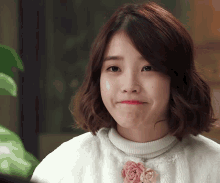 Who are the people that inspire you? Do you have role models? Let me know if we share the same role-model! Have an awesome day and keep smiling!!
There's a small, tiny game going on on the 21st post, so be sure to check it out! Click here to visit that post.
Tc! Byeee 💜🪐