I'm back! I mean didn't you expect me here anyway? 😂😂 I'm trying to post a lot of Christmas-themed posts this time! I hope you are spending time with your family and are doing well 🍪💕
I always like to express my gratitude by giving! Gifts, love, whatever it may be! So today, I will be writing about some gifts you could give to your family for Christmas.
Note that – I don't know what your budget would be 😭 Plus most of these are handmade, so don't worry!
🎄 A Card – Cards are the cutest way to express your love! The person you give it to is most likely to preserve the card as a memory. I personally find cards very cute and still have a card that my sister gave to me, when I turned 10!! Reading them again and again is so nostalgic 🥺❤
---
🎄 Family Illustration – Have a photo of you and your family/sibling you really like? Draw it! Don't follow the exact details, just make an outline and paint it! It'll be the cutest thing on earth. You can even do this digitally incase you're not one for drawing.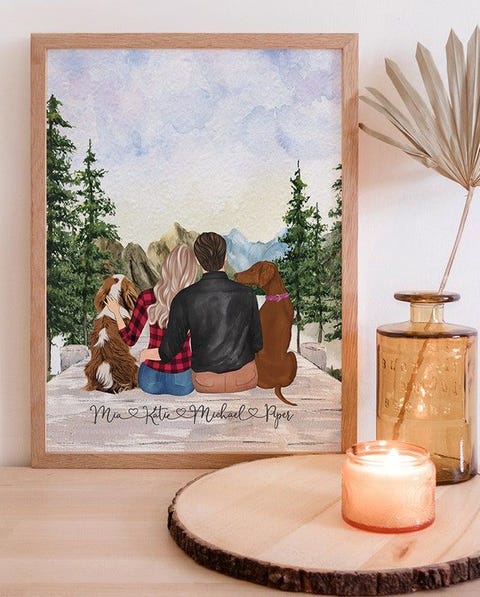 Doesn't this look cute? It's like a memory preserved. And this would look even better on a wall or on your desk! A daily reminder to love your family 💗
---
🎄 Large White Wire Pin-Up Wall – I can't tell you how much I love these! I don't own one currently, but they make your room look so PRETTYY 😭💕 I think this is more of a gift that your sibling will like!!
---
🎄 Polaroid Camera – I LOVE CAMERAS EVEN THOUGH I CAN'T TAKE PICTURES. I mean I can- 😭😭 I've always wanted a polaroid camera, but they're expensivee!! Ugh. It's a great way to keep memories preserved (yeah this post is revolving around memories, lmao).
---
🎄 Personalised Mugs – These are the sweetest. The person whom you gift these to, will always remember! You can get a photo or illustration painted on a cup and gift it! Or maybe write a message, wishing them a merry Christmas and get it on the cup!!
---
🎄 Gift Boxes – I got this idea from Sneha's Blogember post, so all credits to her. I think these are pretty cool and well, they do take time to make (that rhymed, look!) but don't these boxes look so precious too? 🥺 You could put up "Merry Christmas" instead of "Happy Birthday" 😂😂
Alsoo show Sne's blog some lovee, she's so close to 160!
---
🎄 Personalised Family Ornaments/Bookmarks – I cannot express how creative these can get! You could cut out carboard, draw what you want, paint it and attach a ribbon so you could hang it on your Christmas tree! Bookmarks would be a good, simple gift idea for one of your family members who loves to read! You could write their name on it or make another illustration! No limits to your creativity <33
---
This was it for this post! Will you be trying out any of these? Let me know! Stay safe and warm, remember to eat and hydrate plenty!! I love you soo muchh 💗💗
Bye!